ERNST & YOUNG
Accouting Malpractice
BELL ATLANTIC
Business Fraud
Racial discrimination happens when one experiences unequal treatment due to actual or perceived race. The Civil Rights Act 1964 and the U.S. Constitution prohibit any form of racial discrimination and works to ensure that the rights and standing of every resident in the country are protected regardless of their race. This section discusses unlawful racial discrimination in a medical setting and what steps to take to ensure protected rights.
Understanding Racial Discrimination in Medical Settings
Health Care DiscriminationFederal law explicitly protects individuals from different discriminatory treatment in health care services and settings. For example, you may qualify for federal health insurance programs like Medicare or Medicaid. The law stipulates that you must not be subject to discrimination against receiving such services based on your race, skin color, or country of origin. These protections generally extend to health care facilities that provide healthcare services under government health programs. The same laws also regulate how insurance companies offer medical cover to various clients. 
Racial Discrimination in a Medical Setting
A healthcare facility may subject an individual to unfair medical treatment due to perceived race, skin color, or country of origin. For example, you go to a hospital's emergency room and another patient of another race comes in after you. They receive priority treatment. This amounts to racial discrimination. Another instance is when a health care facility blatantly refuses to provide you with medical treatment because of your race. As an employee, you may be subject to racial discrimination through poor treatment by other medical staff. Alternatively, you may be offered poor pay owing to your skin color or nationality. Similarly, a deliberate misdiagnosis of a colored patient and lower quality medical care amounts to discrimination.
Prohibited Discriminatory Acts in Title IV of the Civil Rights Act of 1964
The above forms of illegal racial discrimination often limit individuals from accessing medical services. A recipient of Federal medical assistance should not, based on race, skin color, or nationality:
Deny medical services, human health aid, and similar benefits to American residents, which the federal government provides as a part of health service programs.
Provide a different or lower quality service or similar aid or provide them in a discriminatory manner from others of a different race or standing under the same program.
Separately treat individuals in any discriminatory matter related to the provision of any medical service.
According to Title VI Obligations of Healthcare, health care facilities, organizations, and professionals must:
Provide free-spoken and written language assistance to all patients seeking medical service. Then, aid in their specific facilities but have limited English proficiency (LEP). According to the U.S. Supreme Court, discrimination against individuals with LEP amounts to discrimination against national origin. Therefore, these individuals have a right to equal access, the same as English speakers have similar rights. This also includes notifying these patients of accessible medical services. 
They should provide free written and spoken assistance to medical patients with special communication needs. For example, the hearing impaired, the speech impaired, those requiring audio assistance, Braille, or large print. 
Post signs and medical materials in languages per the cultural and ethnic groups' demographics. This includes creating consent forms and other critical documents in these predominant languages.
Outcomes for Noncompliance
Failure to abide by the provisions in Title VI could result in the responsible facility losing federal or state healthcare funding. For example, an extended healthcare facility could lose its federal funding and close. Health care organizations could also be charged with medical malpractices. Title VI requires government enforcement, a right to sue healthcare facilities and entities, and a private right of action in federal court against such institutions that deliberately commit discriminatory acts, thereby preventing individuals from accessing healthcare opportunities under federally funded programs.
Steps to Take for Racial Discrimination in a Health Facility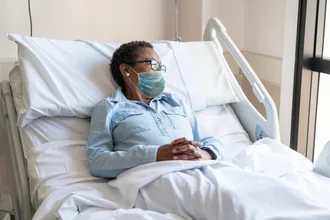 Since the law protects your rights against medically related racial discrimination, you can sue the responsible facilities, entities, or individuals in a court of law. Here are the steps to take if you're a racial victim of medical malpractice or inadequate treatment.
Contact an attorney to help you file a civil rights lawsuit against the malicious parties. A civil rights lawyer explains your rights and the legal procedures to follow.
Ideally, you should first file a racially discriminatory complaint with The Office for Civil Rights (OCR) in the U. S. Department of Health and Human Services (DHHS). The complaint serves to notify the civil rights office that discriminatory conduct was committed against you by a healthcare institution or entity contrary to Title IV Of The Civil Rights Act of 1964. The Office For Civil Rights will then evaluate whether your complaint meets the required threshold for discriminatory conduct. If your complaint receives approval, you attain formal consent to go ahead with the legal process of filing a civil lawsuit. 
Racial Discrimination Damages You Can Sue For
When you are found legally eligible to file a racial discrimination lawsuit against the responsible facility or entity, you can file for several damages depending on the nature and circumstances surrounding the discrimination. For instance, if it was a case of misdiagnosis, low-quality treatment, deliberate negligence, or refusal to offer medical treatment resulting in a disability, the severity of the medical condition, or death, you can file for special damages and general damages.
Special damages are financial losses you suffered due to a worsened condition due to delayed or low-quality treatment and misdiagnosis. These are medical bills and the funeral expenses of your loved one who was the victim. General damages cover other losses such as lost income due to the time you spent in the hospital, lost earning capacity, pain and suffering, and loss of consortium.
Protect Your Rights, Talk to a Lawyer
The legal process is a long and complex one. Proving medical malpractice and racial discrimination is not an easy task. However, it's possible with the help of a medical malpractice attorney who understands the intricacies of the legal justice system. If you or your loved one is a victim of medical malpractice based on their race, skin color, or nationality, you need to do the right thing and protect your rights. Talk to us today for a comprehensive guide on which steps to take.
Who Can You Trust with Your Case?
Have you or a loved one been injured due to negligence? We want to help. Don't hesitate to contact us if you believe you have a case; time is an important factor. Interested in learning more? Get in touch with us so we can better evaluate and serve your needs in getting the justice your loved one deserves. You may very well be entitled to compensation.

Call For a Free Consultation
410-825-5287
Exceptional Peer Recognition
True mavericks in the field of trial advocacy.