ERNST & YOUNG
Accouting Malpractice
BELL ATLANTIC
Business Fraud
A patient-doctor relationship requires the same level of confidentiality as a client-attorney relationship to build trust and transparency. Therefore, any information disclosed to a doctor should remain confidential at all costs Breaching patient-doctor confidentiality may negatively impact a patient and damage their trust. Unfortunately, this is the case for some Maryland residents whose medical test results have been disclosed inappropriately and without their consent. Whether the disclosure resulted from a security data breach, careless records maintenance, or unauthorized snooping of a patient's files, the effects are detrimental and call for legal intervention.
If your loved one is a victim of such unethical disclosure of medical test results, Weltchek Mallahan & Weltchek attorneys can help you file a complaint and pursue suitable legal options.
When Is Disclosing Medical Test Results Considered a Breach of Doctor-Patient Confidentiality?
From a legal angle, confidentiality involves any form of information shared with someone that can't be disclosed to a third party without getting consent from the information's owner. Patient-doctor confidentiality functions the same way; any information exchanged during treatment must legally stay between the two parties unless the patient consents otherwise.
The main objective of doctor-patient confidentiality is to make patients feel comfortable providing any relevant information that will allow the doctor to make the right diagnosis and eventually give the patient the best care possible. If, by chance, any confidential information is shared with a third party without the patient's, a breach of patient-doctor confidentiality shall have been committed.
The confidential information could be:
Any information relating to appointments, examinations, assessments, and procedures discussed with the doctor and other health care providers.
Opinions and diagnoses developed by the doctor following examinations or assessments
All medical records
Any communication, whether health-related or not, shared with the doctor and other medical staff during treatment.
Can you sue a prescribing doctor for your loved one's overdose? Read here to find out.
When Is Disclosing Medical Test Results Not a Confidentiality Breach?
Like in any other field, there are some exceptions to doctor-patient confidentiality. In these cases, displaying medical records may not be considered unlawful, and filing a medical malpractice lawsuit might be ineffective.
These instances include:
When the doctor or medical personnel needs to make a statement to any official of public health
When the injuries being treated could prompt criminal investigations, e.g., gunshot wounds
If the information has reached the public already.
When the disclosure is compelled by law e.g., for positive result tests for AIDS
When the patient's life is at risk
If the information is in the public interest, meaning the public could be harmed due to the patient's condition.
HIPAA Regulations for Medical Records
Under the federal rules created by the Health Insurance Portability and Accountability Act of 1996 (HIPAA), your medical records are considered confidential information. Therefore, they shouldn't be disclosed to anyone without your consent.
The Act prohibits any medical provider, health insurance, and other health entities from sharing personally-identifying information without your permission. However, keep in mind that this law does not restrict health providers from sharing information needed to treat you.
Examples of medical health records are:
Family medical history
Lab reports
Medical history
X-rays
Pre-existing conditions
Genetic test results
Prescribed medications
Information regarding your lifestyle
According to the HIPAA, health professionals and organizations MUST obtain your written authorization before sharing these medical health records with businesses or insurance companies.
What Steps to Take If Someone Else Received My Medical Test Results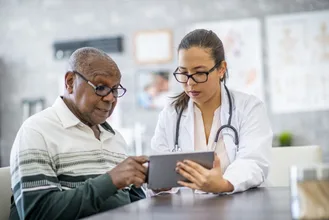 There are 3 actions you can take if your confidential medical records are exposed:
Reach out to the person or entity accountable for the disclosure. Then ask them to reclaim the shared records and request that anyone who received the copy destroy theirs. If the records were exposed due to an error, the responsible party might agree to comply.
Contact the Department of Health and Human Services (HHS) to explain what happened and request an investigation. In case HHS discovers any violations of HIPAA, they may discipline or send a warning to the person responsible for the disclosure or pass the case to the Department of Justice for prosecution.
File a lawsuit for the breach of confidentiality. Alternatively, you may choose to file a lawsuit and seek compensation for the physical and emotional damage you went through because of the disclosure.
Breach of Confidentiality Lawsuit
If a doctor breaches the confidential relationship by disclosing protected information, the patient is entitled to file a lawsuit against him or her. Despite the HIPAA not issuing the right to sue in federal court, lawsuits still use the standards provided by the Act to establish liability.
Filing a lawsuit may help you recover compensatory damages like reputation damages and emotional suffering resulting from the disclosure. Some states already assume that the disclosure led to damages to the patient, implying that you'll not have to prove them yourself to get compensation.
How Long Should a Doctor-Patient Confidentiality Last?
Is it legal to disclose your medical records publicly after some time without your consent? The simple answer is No! Patient-doctor confidentiality is still effective after patients finish their treatment or appointments. This confidentiality stays even after the patients die. Therefore, whether the patient passes away, relocates, or completes their treatment, their medical records are still protected by doctor-patient confidentiality. It doesn't matter what time it takes.
Get Legal Help If Someone Else Received Your Medical Test Results
If someone or a group of people disclose you or your loved one's medical records unethically or without consent, you may be worried about the other people who can access these records and the privacy breach that could follow. Even though the law protects your medical privacy, it is still upon you to file a lawsuit and follow through to protect your privacy rights.
If you're in Maryland, contact the lawyers of Weltchek Mallahan & Weltchek. Rated as one of America's "Best Law Firms", our experienced and highly competent attorneys will help you receive the compensation you deserve. Call 410-825-5287 for a free consultation today.
Who Can You Trust with Your Case?
Have you or a loved one been injured due to negligence? We want to help. Don't hesitate to contact us if you believe you have a case; time is an important factor. Interested in learning more? Get in touch with us so we can better evaluate and serve your needs in getting the justice your loved one deserves. You may very well be entitled to compensation.

Call For a Free Consultation
410-825-5287
Exceptional Peer Recognition
True mavericks in the field of trial advocacy.