ERNST & YOUNG
Accouting Malpractice
BELL ATLANTIC
Business Fraud
Surgeries present a potential treatment option for even the most severe conditions. A recent study indicates that approximately 25 million Americans undergo surgery annually. However, despite its potentiality, surgery has become an avenue for medical errors. Put simply, unnecessary surgery is on the rise, with statistics indicating that approximately 7.5 million unnecessary medical and surgical procedures are being performed annually.
The implications of unnecessary surgery, especially for the patients, are devastating. This is because an unnecessary surgery simply does more damage than good. Quite frankly, these surgeries add no benefit to the patient. Instead, they expose the patient to long-term risks of complications.
Having said that, a patient who has undergone unnecessary or unneeded surgery may end up suffering an injury, harm, or death. But can they sue a doctor for performing unnecessary surgical procedures? Here's what you need to know.
What Is an Unnecessary Surgery?
An unnecessary surgery occurs when a physician performs a surgical procedure on a patient who doesn't need it. In other words, the surgery is absolutely not necessary as it doesn't treat any illness, let alone improve the patient's health.
Why Are Unnecessary Surgeries Performed?
Surgery comes with risks and complications. However, even with this knowledge, doctors still proceed to perform unnecessary surgery on their patients. Oftentimes, unneeded surgery is performed on a patient by doctors for cosmetic reasons, professional fame, and financial gain, or because they've been trained to do it, and it's the way they've always done it.
What Are the Common Types of Unnecessary Surgery?
Put briefly, unnecessary surgery can only be deemed unnecessary if another medical professional finds no need to perform the procedure. The following are some of the common types of unnecessary procedures performed on patients:
Knee and hip surgery
Cesarean sections
Back surgeries
Gallbladder removal
Example of an Unnecessary Surgery
Assuming you have a painful condition, surgery is one of the treatment options available. If the doctor performs the surgery, there's a 45% chance that it will improve your condition, a 30% chance that it will worsen it, and a 25% chance that you won't experience any significant change. What's more, following the surgery, you are required to have complete bed rest for eight months, meaning you won't have a normal life like you used to.
In this example, the reasons to opt for surgery are very minimal. However, you can only consent to the surgery if the doctor provides you with the details above. If that's not the case and you end up having the surgery, you have sufficient grounds for filing a lawsuit for malpractice. On the other hand, if you were informed, then you may not have a robust case.
Can You Sue for Unnecessary Surgery?
First, it is imperative to note that any surgery can be unnecessary. Therefore, understanding whether surgery is unnecessary is a question of fact. And to answer the question, one has to compare the opinions of doctors who may have different opinions, to say the least. Quite frankly, an unsuccessful surgery doesn't mean that your lawsuit for malpractice will be successful.
Therefore, the answer to this question isn't absolute, but suffice to say, "it depends."
That said, some of the common instances that often form the basis of a medical malpractice lawsuit include:
The physician operating on the wrong patient or the wrong body part
Surgical procedures performed on a patient without their consent
Surgical procedure arising out of a misdiagnosis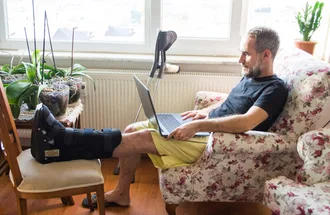 The Basis of a Malpractice Claim for an Unnecessary Surgery Lawsuit
In order to successfully win a medical malpractice claim, you must prove negligence and harm. These two are essential elements since they form the basis of all medical malpractice lawsuits.
For example, if you have a broken knee. Your physician examines you and determines that the best course of action is to proceed with surgery. Later, you experience complications and realize that a less invasive method might have worked more effectively than the surgery. The fundamental question you may grapple with is whether the doctor is liable for the unnecessary surgery.
To determine liability, the court proceeds to look at whether the treatment provided by the doctor was made in line with the appropriate medical standard of care under the circumstances.
If the court establishes that another medical professional would have done the same under similar circumstances, the doctor may not be liable for the harm. However, suppose evidence shows that another medical professional wouldn't have performed the surgery. In that case, it means that the decision wasn't made in line with the appropriate medical standards of care under the circumstances. As such, there is a possible medical malpractice case.
However, establishing that a doctor's decision wasn't in line with the appropriate medical standard of care is often daunting. The court requires you to provide sufficient evidence, and in most cases, expert medical witnesses are required to establish a valid claim.
The Importance of an Expert Witness in a Medical Malpractice Lawsuit
The court's decision is typically hinged on the evidence provided by a medical expert who will be considered a witness in your case. It is imperative to have an attorney by your side from the onset because they will help gather all the relevant medical records, including a medical examination record which can help build a robust case against the physician.
In addition, your attorney will help you identify the options available as well as choose a proper medical expert witness who can testify in front of the jury in your favor. Typically, the role of the expert will be to inform the court about the possible breach and their opinion as to whether the potential breach amounted to medical malpractice.
The opinion the expert witness provides to the court will be based on:
Your medical condition before the procedure
Your complications after the procedure
Known complications and risks associated with the surgery
The doctor's objective medical findings
An examination of all medical records related to the patient's care
Contemporary research and conclusions concerning any potential treatment to the plaintiff's condition
The doctor's experience of treating similar conditions
Having said that, it is imperative to note that some cases of medical malpractice in relation to unnecessary surgery are straightforward. This is the case where medical errors are apparent, and therefore, you don't need an expert medical witness to testify.
The Statute of Limitation
If your surgery was unnecessary and you suffered immense harm, you may have recourse in law. However, it is essential to consult with a qualified medical malpractice attorney who can help shed light on the law governing medical malpractice, particularly the statute of limitations.
Put briefly, you are required to bring a medical malpractice lawsuit for unnecessary surgery within five years from the time the incident occurred. Failure to initiate a lawsuit within this time frame may render your case time-barred. As such, it is vital to retain an attorney who can help.
Need Help? Contact a Medical Malpractice Attorney
If you've suffered injuries due to unnecessary surgery, then it is imperative to seek help from a medical malpractice attorney within the timeframe provided in the statute of limitations. This helps your attorney collect all the relevant evidence and documents—thus building a robust case. Contact us today for a free consultation.
Who Can You Trust with Your Case?
Have you or a loved one been injured due to negligence? We want to help. Don't hesitate to contact us if you believe you have a case; time is an important factor. Interested in learning more? Get in touch with us so we can better evaluate and serve your needs in getting the justice your loved one deserves. You may very well be entitled to compensation.

Call For a Free Consultation
410-825-5287
Exceptional Peer Recognition
True mavericks in the field of trial advocacy.