ERNST & YOUNG
Accouting Malpractice
BELL ATLANTIC
Business Fraud
If you know someone in high school who has suffered a head injury and you suspect that their treatment was not handled competently, then there actually is something you can do about it. Here's some information about medical malpractice arising from concussions in various high school activities and sports.
Introduction to Head Injury Malpractice in High School Sports
If someone in a school made a mistake that leads to a medical mishandling, then they may be liable.
Nearly anyone at a high school involved with medical care can be responsible and have liability. This can include physical therapists, coaches, or even an entire school in general. There's a precedent based on a court case called Searles V Trustees of St. Josephy College that makes it so that, in the eyes of the law, schools of all kinds, including high schools, have a legal duty to care for students attending the school. This includes anyone in an athletic or extracurricular activities program.
This does vary from state to state since there isn't a specific national standard.
Examples of Mistakes That Create Liability for Head Injuries
There are a number of examples where those working for a high school may have made a mistake that endangered your high school student. Thus, you can seek damages in court. These include the following:
Diagnosis
If your student was involved in an event that involved physical trauma, then they likely would have been examined. This would include finding out whether your child needed to go through a special protocol.
If they easily could have noticed signs of a concussion or other injury, and they did not catch it or otherwise decided not to act on it, this could be cause for liability, for example.
The signs of a potential concussion include-
Fatigue
Ringing in the ears
Headache
Vomiting
Nausea
Difficulty Talking
If a professional missed these signs completely, and your student was clearing displaying them, this could be the direct cause of further damage since the student didn't have the opportunity to receive the proper care.
Some signs could also show up at a later date, and professionals are supposed to be trained in picking up on these over time as well. Legally, athletic health professionals have a responsibility to make sure students aren't unnecessarily injuring themselves. This is especially the case in these situations since young people can suffer long-lasting effects from too many concussions or other head injuries due to the fact that they are still developing.
That's why it's so important to be careful with head injuries in high school sports and why it's a serious problem when healthcare professionals fail to be careful enough.
Return to Play and Informed Consent Decisions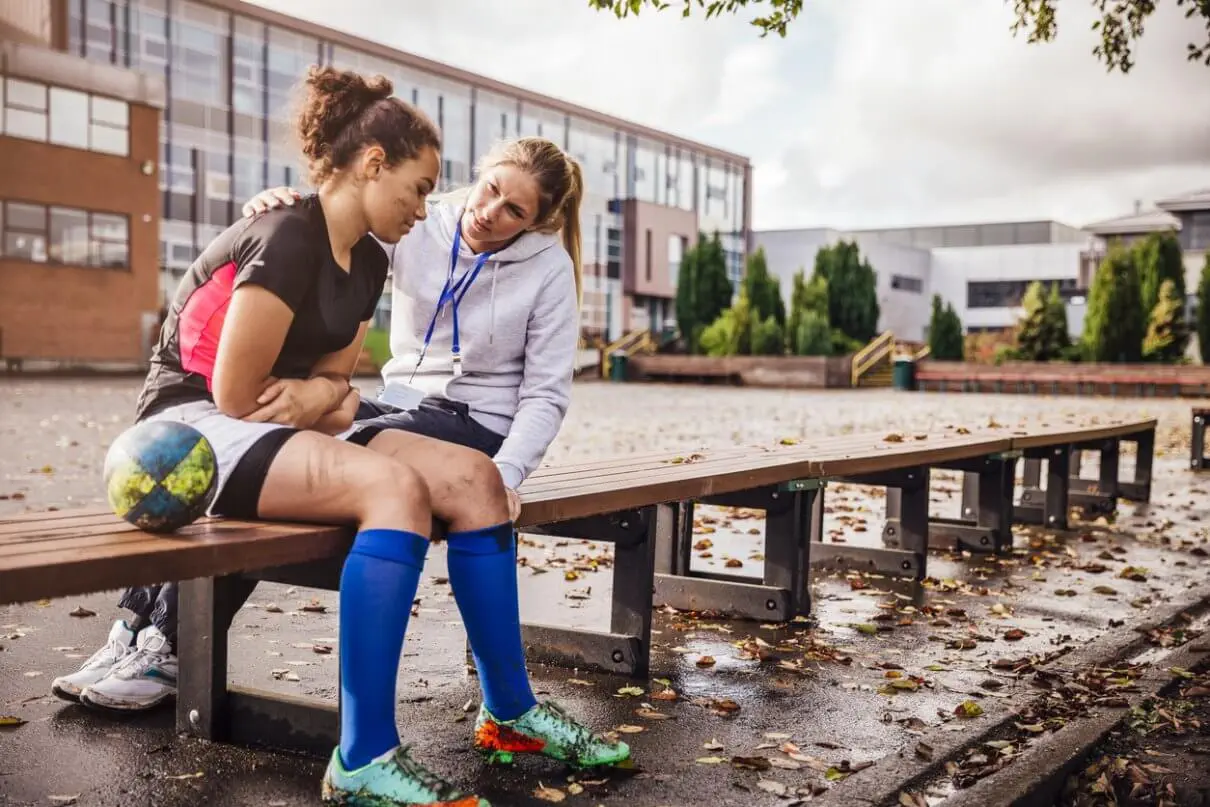 Another mistake that school employees can make is clearing them to go back and play too early. If a student had some previous issue and they weren't fully ready, then clearing them for this is irresponsible. Thus, this could create liability on their part.
For example, if a head injury occurred because a student wasn't ready to go back onto a field to play a sport like a football, then they may have not been prepared to properly protect themselves from a head injury.
Another example of this is if a professional knew there was some issue, and failed to tell someone. Depending on the situation, this could be a cause you could use in a case.
General Medical Care
There could also have been a mistake when it comes to the actual treatment of the injury, as well as any follow-ups. If a doctor says that the danger from the injury is over and it isn't, this could be a problem. If they prescribe the wrong medication or the wrong treatment, this could also lead to further endangerment. Thus, leading to liability as well.
Certification or Supervision Problems
Any staff members including trainers, physicians, coaches, or anyone else needs to have the proper certification to treat or be responsible for students. If they don't, this could be cause for a malpractice suit.
What to Do Next
The next logical step when it comes to looking into a potential problem that caused your high school student's injury is to hire a lawyer that specializes in exactly this topic. Only someone that has plenty of experience dealing with malpractice suits will handle the situation properly.
They will know whether you have a case or not depending on the situation. They will tell you if there's a real reason to believe that something happened due to incompetence.
The long-term effects of concussions can be serious, but having the funds to pay for medical care related to concussions can make a big difference in what that outcome might be.
Conclusion
For more information on figuring out what to do next, please make sure you contact us today. The faster you contact us, the faster we can start aiding your efforts.
Who Can You Trust with Your Case?
Have you or a loved one been injured due to negligence? We want to help. Don't hesitate to contact us if you believe you have a case; time is an important factor. Interested in learning more? Get in touch with us so we can better evaluate and serve your needs in getting the justice your loved one deserves. You may very well be entitled to compensation.

Call For a Free Consultation
410-825-5287
Exceptional Peer Recognition
True mavericks in the field of trial advocacy.