ERNST & YOUNG
Accouting Malpractice
BELL ATLANTIC
Business Fraud
Medical errors during birth are quite prevalent in hospitals and primarily cause fatalities or organ damage for the infants. Your baby can suffer birth asphyxia due to a botched birthing process or incorrect use of birthing tools such as forceps and vacuum.
What Is Birth Asphyxia?
Birth asphyxia occurs when an infant has insufficient or total lack of oxygen in the brain and other organs before, during or after birth. Consequently, lack of oxygen causes hypoxemia, ischemia, and hypercapnia, which is often accompanied by lactic acidosis and anaerobic glycolysis.
Lack of sufficient oxygen to the brain cells and organs will rapidly cause reversible or irreversible damage to the cells. A condition known as hypoxic-ischemic encephalopathy (HIE) occurs when the brain cells are denatured and destroyed by high levels of lactic acid.
HIE may permanently alter the brains cells leading to long-term conditions such as:
Learning disabilities
Developmental delays
Cerebral palsy
Seizure disorders
The extent of damage to cells primarily depends on various factors, and if the medical officer was proactive to respond to the changes:
Was the correct treatment given after the lack of oxygen?
The period the cells were subjected to the lack of sufficient oxygen.
Lastly, was there a partial or total lack of oxygen?
What Are the Primary Causes of Birth Asphyxia?
There are numerous causes of birth asphyxia which result in multiorgan injury and brain damage. Mild asphyxia usually resolves without causing severe damage to the brain and organs. However, chronic asphyxia may lead to death or permanent organ failure. Some of the prevalent causes of infant asphyxia include:
Lack of sufficient oxygen in the mother's blood
A blocked infant's airway.
Abnormal levels of the mother's blood pressure
Prolonged labor
Difficult birthing process
Incorrect separation of the placenta from the womb
Underlying infection in the mother or infant
The airway of the infant is not fully developed especially for premature babies.
The baby suffers from anemia
Lastly, medical malpractice
What Are the Stages of Birth Asphyxia?
After a baby is deprived of oxygen during or after the delivery process there two types of changes that occur, the first stage occurs a few seconds or minutes after lack of oxygen and is known as hypoxemia. During this stage, blood flow is insignificantly low, and organ cells receive low oxygen.
The second stage typically lasts for days or weeks after cells restore their oxygen supply. At this stage, the damaged cells release toxins which cause reperfusion injury on the adjacent cells.
What Are the Symptoms of Birth Asphyxia
After birth, a physician analyzes the baby using the Apgar score to examine any presence of birth asphyxia. Further, the Apgar score rates certain physical characteristics on a range of 0-10. Some of the key attributes a medical practitioner should take note of are:
Skin color
Muscle tone
Heart rate
Reflexes
Rate of breathing
If your baby scores from 0-3 on the Apgar score, it is a probable indication of birth asphyxia. Primarily the baby will present with the following symptoms:
Reduced heart rate
Weak reflexes
Difficult or shallow breathing
Reduced muscle tone
Seizures
Acidosis
Meconium stains on the amniotic fluid
Lastly, bluish, or grey skin color
What Are the Treatment Options for Birth Asphyxia?
A medic should be proactive to offer instant treatment after noticing signs of a shortage of blood supply in an infant. A fast response decreases the chances of irreversible damage to the body organs or permanent brain damage.
For mild cases, breathing support is sufficient to restore a normal supply of blood. For chronic cases, a breathing machine, fluids, and respiratory ventilators will be necessary to reverse the condition. The physician may also recommend the use of a machine to stabilize the levels of blood pressure and consequently manage seizures.
For advanced cases, incorporate more costly and comprehensive methods to prevent a fatality.  High-frequency ventilators, hypothermia, kidney dialysis, among others are intrinsic.
Will Your Baby Recover From Birth Asphyxia?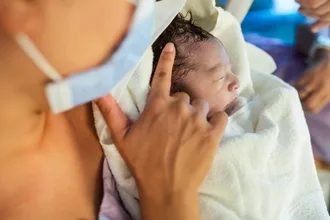 A baby may or may not recover depending on the period of oxygen deprivation. For mild cases, your baby will recover after breathing support or hypothermia procedures. However, if your baby's cells did not have enough or no oxygen for an extended period, the damage may be irreversible. A prolonged period of lack of oxygen causes damage to vital organs such as the brain, heart, lungs, or kidneys, which will result in organ failure and consequently, death.
Can Doctors Prevent Birth Asphyxia?
Sadly infants suffer birth asphyxia due to medical errors and practices. Some hospitals are inadequately prepared with breathing machines or hypothermia techniques.
Arguably, although some birthing problems are unpredictable, thus unpreventable others can be prevented. All hospitals adopt the right techniques and machines to ensure normal oxygen levels minutes after the shortage. Hospitals should also avoid employing incompetent doctors. Furthermore, doctors in training should not conduct any birthing procedure without supervision.
If birth asphyxia occurs due to negligence, the health institutions are obliged by the law to compensate you. You should receive full compensation for all economic and non-economic damages without compromise. Hiring an attorney increases your probability of obtaining judicial justice.
Is your Baby a Victim of Birth Asphyxia? Weltchek, Mallahan, and Weltchek Can Help
Doctors' malpractice can partially or wholly contribute to birth asphyxia. Our attorneys have comprehensive knowledge about doctors' malpractice lawsuits. We have obtained a million dollars settlement for birth asphyxia victims. Thus, we can assist you in pursuing justice for your baby.
We are aggressive when pursuing birth litigations, and we hire medical consultants who review the equipment used during the birthing process. Consequently, a comprehensive analysis of the doctors' response action is reviewed to evaluate if the medic took the correct steps after detection of a low supply of oxygen.
We understand that brain damage during birth will necessitate specialized care and invasive treatment methods which can be tremendously expensive. Attorneys at Weltchek, Mallahan, and Weltchek will help you get the right compensation for your child. Contact us for a free case evaluation and legal representation for the suffered medical injustices.
Who Can You Trust with Your Case?
Have you or a loved one been injured due to negligence? We want to help. Don't hesitate to contact us if you believe you have a case; time is an important factor. Interested in learning more? Get in touch with us so we can better evaluate and serve your needs in getting the justice your loved one deserves. You may very well be entitled to compensation.

Call For a Free Consultation
410-825-5287
Exceptional Peer Recognition
True mavericks in the field of trial advocacy.