ERNST & YOUNG
Accouting Malpractice
BELL ATLANTIC
Business Fraud
Hip implants and replacement surgeries offer the hope of restored mobility to people who suffer from chronic pain and deteriorating hip joints. Unfortunately, a negligent procedure can leave patients facing medical malpractice issues such as infection, severe pain, failure of a prosthetic hip joint, and the need for additional surgeries.
Replacement hip surgery is among the most common orthopedic surgical procedures. It allows surgeons to replace the deteriorating natural bone to enable patients to regain hip movement. Orthopedic surgeons must evaluate the specific conditions of their patients and understand the processes needed for the particular hip replacement device they implant.
Hip Replacement Surgery
A hip replacement refers to a medical procedure that replaces damaged or deteriorating bone with a metal, plastic, or ceramic ball-in-socket joint. Bones damaged by fractures, arthritis, aging, and more can make normal activities difficult, such as walking, sitting, dressing, or sleeping.
What Qualifies as Medical Malpractice?
When medications, changes to lifestyle (exercise regimen, cane, walker, etc.), NSAIDs, and other non-surgical methods fail, hip replacement surgery is the last resort that a medical professional takes. A surgeon has a fiduciary duty to remain loyal to the patient's interests over his or hers. It means that the surgeon cannot prescribe any medications or procedures that are not in the patient's best interest.
Medical malpractice occurs when licensed medical professionals stray from what the industry or field considers the acceptable standard of care. Thus, if a health professional commits one of the acts below, a patient can have legal options:
Conducts unneeded surgery
Performs poor follow-up care
Offers incorrect diagnosis
Discharges the patient early
Misreads or disregards critical lab results
Fails to diagnose a condition
Gives the wrong dosage or medication
Defective Devices
Surgeons require hip implants from device manufacturers to perform a replacement procedure. Unlike medical professionals, the law holds medical device companies to a higher standard. Therefore, a defective device lawsuit need not focus on the manufacturer's intent, but whether an injury occurred.
Manufacturers have the responsibility of creating products that work safely. They must also provide accurate instructions to end-users and warn them about potential harms. Failure to do this, consumers can sue for a range of things from lost wages to medical expenses like revision surgeries.
Ten Common Medical Malpractice Issues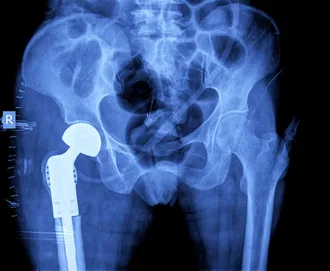 Several types of medical issues and injuries can result from hip implants and negligent hip replacement surgery. The most commonly cited sources of litigation are nerve damage, limb length discrepancy, vascular injury, infection, compartment syndrome, chronic pain, hip dislocation, deep vein thrombosis, and periprosthetic fracture.
1. Dislocation of the Hip Joint
Dislocation after a hip replacement surgery occurs when the hip implant's ball dislocates from the socket. The risk of dislocation is higher during the first few months after surgery because the joint tissues are still healing.
2. Chronic Pain
Excessive or chronic pain after hip replacement surgery can result due to several medical errors and may indicate medical malpractice. A mistake done during the preoperative process or surgery may cause the patient to experience severe pain beyond the expected post-surgery healing window.
3. Nerve Injury
Nerve injury is a potentially devastating complication of hip replacement surgery, especially THA (total hip arthroplasty). It is highest in patients with previous hip surgery and hip dysplasia.
4. Infection
Hip replacement infections are an adverse complication of surgery. They can develop during a hospital stay or after going home. They may require painful, complicated, and expensive surgery to clean, remove, or replace the implant – and may have lifelong effects. If they are a result of negligence, victims can sue for medical malpractice to recover damages.
5. Deep Vein Thrombosis
Deep vein thrombosis (DVT) is a risk of hip replacement surgery. The medical condition occurs when a blood clot develops inside a vein located deep in the body. It is a medical emergency because the clot can break away and travel to the lungs and causing a fatal pulmonary embolism.
6. Vascular Injury
Laceration of major blood vessels can occur during hip replacement surgery, which can cause morbidity and mortality. Vascular structure injury can occur during the placement of screws in processes such as drilling, retraction, dissection, or reaming.
7. Leg Length Discrepancy
Some patients notice that one leg may be shorter than the other. The size of a prosthetic hip replacement implant and how the surgeon inserts it will determine the length of the patient's leg after surgery. Medical negligence may cause legs asymmetry after hip replacement surgery.
8. Osteolysis
Osteolysis refers to bone loss that occurs at the hip due to medical negligence during a hip replacement surgery. The loss of bone can cause the loosening of the entire joint and reduced mobility. Surgeons must thoroughly evaluate all patients before doing surgery to determine the amount of bone density the latter have to undergo the procedure safely.
9. Compartment Syndrome
Compartment syndrome refers to a painful condition that occurs whenever pressure builds to dangerous levels within the muscles. It can decrease blood flow and prevent oxygen and nourishment from reaching muscle and nerve cells. Acute compartment syndrome can cause permanent muscle damage.
10. Defective Hip Replacement Devices
Defective hip replacement devices like metal-on-metal replacement hip joints can cause medical malpractice damages. When some of these medical devices wear down prematurely, it could lead to several issues, including the release of metallic particles. It can cause infections, pain, and additional procedures to replace defective devices.
Finds More Common Medical Malpractice Issues With Hip Implants
Botched hip replacement surgeries can affect a victim's quality of life as well as his or her ability to work or earn income. What's more, diagnostic errors and other negligent mistakes during the surgical procedure can result in severe pain, injury, and other damages to a patient. Seeking compensation is necessary to enable victims to recover damages and allow them to plan for their future.
Medical malpractice cases are complicated, time-consuming, and can be emotionally draining. Thus, victims need to hire an experienced medical malpractice or product liability attorney to represent them. These specialized types of cases have overlapping medical and legal matters and unique procedural issues.
Who Can You Trust with Your Case?
Have you or a loved one been injured due to negligence? We want to help. Don't hesitate to contact us if you believe you have a case; time is an important factor. Interested in learning more? Get in touch with us so we can better evaluate and serve your needs in getting the justice your loved one deserves. You may very well be entitled to compensation.

Call For a Free Consultation
410-825-5287
Exceptional Peer Recognition
True mavericks in the field of trial advocacy.