Baltimore Attorney wins "High Stakes" Award
Call 410-825-5287 for a free medical malpractice consultation
Baltimore Attorney Nolan Weltchek has recently been recognized as one of America's Top 100 High Stakes Litigators®, an invitation-only honor given to the country's premier and results-driven attorneys. Weltcheck is a partner in the Lutherville. MD medical malpractice firm of Weltcheck, Mallahan and Weltcheck.
Recipient of magna cum laude honors when receiving his Bachelor's Degree from Middlebury College, Mr. Weltchek went on to the University of Maryland where he earned his Juris Doctorate Degree. His practice focuses on medical negligence, catastrophic injury, wrongful death and other complex litigation issues.
To qualify for the award, attorneys meet one of two monetary criteria. They must have litigated at least one case for a plaintiff or defendant with a minimum of $2 million in damages at stake or represent a business with a minimum of $2 million at stake. Candidates are also screened on a range of factors including experience, results, reputation and impact in the communities of which they serve. Less than one-half of one percent of all lawyers in the United States are invited to receive the award.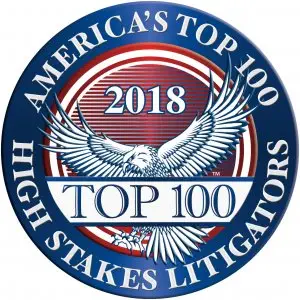 More information about America's Top 100 High Stakes Litigators® is available at www.Top100HighStakesLitigators.com or by contacting membership Director Kevin Wieser. To learn more about Attorney Nolan Weltchek and his firm, contact Weltcheck, Mallahan and Weltcheck at 410-941-3447. or visit their website at wmwlawfirm.com.
Accolades for Weltchek Mallahan & Weltchek
OVER $600 MILLION IN VERDICTS & SETTLEMENTS FOR OUR CLIENTS