ERNST & YOUNG
Accouting Malpractice
BELL ATLANTIC
Business Fraud
Anyone who visits a health facility for treatment, and their condition worsens due to a medical professional's negligence, can file for a medical malpractice claim. If your loved one is a victim of such an incident, you can seek compensation on their behalf for lost wages. The objective is not to self-enrichment, but to indemnify the person for economic and non-economic damages.
Economic versus Non-Economic Damages
Economic damages in a medical malpractice claim are monetary losses emanating from the incident. Some are easy to quantify than others. They include:
Medical costs to recover from the worsened condition
Any wages lost when the victim is recovering from the malpractice
Future income loss if a disability that prevents one from working occurs
On the other hand, non-economic damages are hard to weight, like pain and suffering. You may also want to seek compensation for the loss of consortium your family experiences when your loved one is enduring a medical malpractice injury.
In this post, we will delve into lost wages from medical malpractice. We will explain how to estimate temporary and long-term income loss.
When Medical Malpractice Leads to Lost Wages
The most unfortunate thing about medical malpractices is that they happen when one is already experiencing a health condition. In the treatment process, negligence or error results in additional health problems or complications.
Some medical malpractice victims take months or years to recover from the injuries, while others sustain permanent disorders. During this period, the patient is usually in a hospital bed or constantly undergoing outpatient care. This prevents them from doing much, sometimes forcing them to stop working.
Even after recovery, the person may not perform like they used to do before the medical malpractice incident. Long-term disabilities can cost someone the ability to earn, making their financial future uncertain.
Filing a lost wages claim can help to lighten this situation. The compensation amount depends on the period over which the individual is unable to earn when recovering. The long-term impacts of the victim's injuries to their work also come into play.
Justification for Lost Wages Compensation
A lost wages claim in medical malpractice cases is only valid when the reason for income loss is related to the said medical malpractice. It can't be any other reason. For instance, if you earn less because you switched careers after recovering, you may not qualify for lost income compensation.
How to Calculate Lost Wages
The amount of lost income you can claim primarily depends on your average earnings and the period you cannot work. Calculations may vary with the nature of your job.
Lost Wages for the Employed
Calculating lost wages for a person who works an hourly job is relatively straightforward. In the United States, the average employee works for 40 hours a week. To get someone's lost income per week, multiply their hourly rate by 40. Multiply the result by the number of weeks the person misses work to find total lost wages.
When there's permanent disability due to medical malpractice injuries, the victim might never return to work. You can find annual income loss by multiplying their weekly income by 52 (number of weeks in one year). Attorneys estimate reasonable compensation by multiplying a victim's annual income by the number of years they can expect to miss work.
Lost Wages for the Self-Employed
Things get a little tricky when estimating lost income for a self-employed individual, but it's still possible to compute a rational figure. Earnings for such a person may be from sales or providing services to clients. For someone with a stable source of income, take the average monthly revenue and deduct expenses. Multiply the figure by 12 to estimate their annual income.
Self-employed entrepreneurs usually start with relatively low-income rates for a few years before their business bloom. Their income may demonstrate an upward trend. Depending on the business plan and projections, one might qualify for higher compensation than their income at the time of medical malpractice.
Lost Wages After Wrongful Death
Some medical malpractice incidents end up claiming the victim's life. When such a tragedy occurs, the surviving family members or dependents can pursue compensation for lost wages. The process starts with filing for a wrongful death claim.
A wrongful death claim requires you to demonstrate that your loved one's demise resulted from the negligence or wrongful act of a medical professional or hospital. If you can prove that, you can get compensated for the deceased's estimated future income.
Proving Medical Malpractice
Several aspects define medical malpractice. If you are seeking compensation for lost wages due to medical malpractice, work with an experienced attorney to prove the following:
Violation of Acceptable Standards of Care
The law requires healthcare providers to treat patients under the standards a prudent medical professional would follow in a similar situation. If your loved one's condition deteriorates due to a healthcare professional or hospital violating this requirement, that is a medical malpractice case.
Injury Due to Medical Negligence
You must validate that your loved one got injured because a healthcare professional denied reasonable standards of care. An undesirable outcome after medical treatment or procedure doesn't prove medical malpractice by itself. You must show the victim's injury resulted from medical negligence.
The Damages Are Real and Significant
The victim or their attorney must show that the injury from medical malpractice is significant.
Proving Lost Income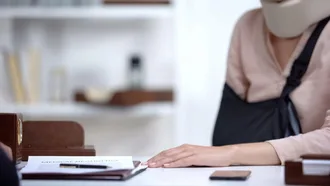 The court may evaluate several documents to substantiate an individual's value of lost income. These may include:
Employment letters
Past tax returns
Bank statements
Pay stubs
The self-employed can present their business records and statements that show revenues and expenses. Further, businesses pay taxes every quarter based on their earnings. A record of estimated tax pay-ins and income tax returns can help estimate a complainant's income.
Work With a Medical Malpractice Law Firm
Defining the exact value of lost wages for someone who has suffered a medical malpractice injury isn't easy. It gets more intricate when estimating the future income of a professional or business person with potential financial growth. A medical malpractice law firm can assist.
Would you like to pursue income loss compensation for a medical malpractice victim in Maryland?
Contact us at Weltchek Mallahan and Weltchek for a free consultation.
Who Can You Trust with Your Case?
Have you or a loved one been injured due to negligence? We want to help. Don't hesitate to contact us if you believe you have a case; time is an important factor. Interested in learning more? Get in touch with us so we can better evaluate and serve your needs in getting the justice your loved one deserves. You may very well be entitled to compensation.

Call For a Free Consultation
410-825-5287
Exceptional Peer Recognition
True mavericks in the field of trial advocacy.