ERNST & YOUNG
Accouting Malpractice
BELL ATLANTIC
Business Fraud
It's possible to get an infection while receiving your treatment in the hospital. According to this report, one in every ten patients gets some type of infection during their stay in the hospital. These infections are caused by fungi, bacteria, or other parasites within the hospital. These hospital-acquired infections can either introduce a new illness to you or worsen an existing condition. Knowledge of these infections can help you know what to do when you or your loved one becomes a victim.
This guide will look at the leading causes of hospital-acquired infections and what you should do when you become a victim. Hopefully, the article will enlighten you to handle future cases more comfortably.
Understanding the Main Hospital-Acquired Infections
Before going further, it's essential to know more about hospital-acquired infections. As the name implies, hospital infections are only those that you get from the:
Nursing room
ICU
Surgery room or any other hospital facility
Ideally, many people notice hospital-acquired infections while still at the hospital. Others notice them:
Less than three days after discharge from the hospital
Fewer than 30 days after a surgical operation
Less than 60 hours after been admitted to the hospital
Hospital-acquired infections are pretty dangerous because they might make you stay in the hospital for a more extended period. They might also increase your bills at the hospital or interfere with your income streams if you are forced to stay at home during that period.
The Main Risk Factors for Hospital-Acquired Infections
Bacteria are responsible for 90% of these infections. The bacteria can be spread by close contact with an infected person. Here are other factors that can increase the spread of the bacteria:
Longer hospital stay – You can stand a high chance of getting an infection if you stay in the hospital for a long time. The risk can be higher if you interact with different patients with multiple infections.
Hand hygiene – Poor hygiene can increase your vulnerability to the hospital-acquired infections
Open wounds – An open wound is more susceptible to infections than a closed one, especially when it comes in contact with a bacteria-infected surface.
Invasive procedures – Some medical equipment requires the doctor to interfere with the protective layer of your skin. Examples of such kits are catheters and respiratory tubes. If they have any bacteria in them, the chances are high that you will get an infection.
Types of Hospital Acquired Infections
Hospital-related infections can take many forms based on their source and your health. The common types of the hospital-acquired disease include:
Tuberculosis
Urinary Tract Infections (UTIs)
Pneumonia
Like in other infections, the symptoms of hospital-acquired infections range from mild to severe. The main symptoms include:
Headache and fever
Diarrhea
Shortness of breath
Cough, etc.
You should inform your doctor immediately when you notice any of the above signs. Handy care can prevent the infections from worsening and causing other adverse effects.
Avoiding Infections at the Hospital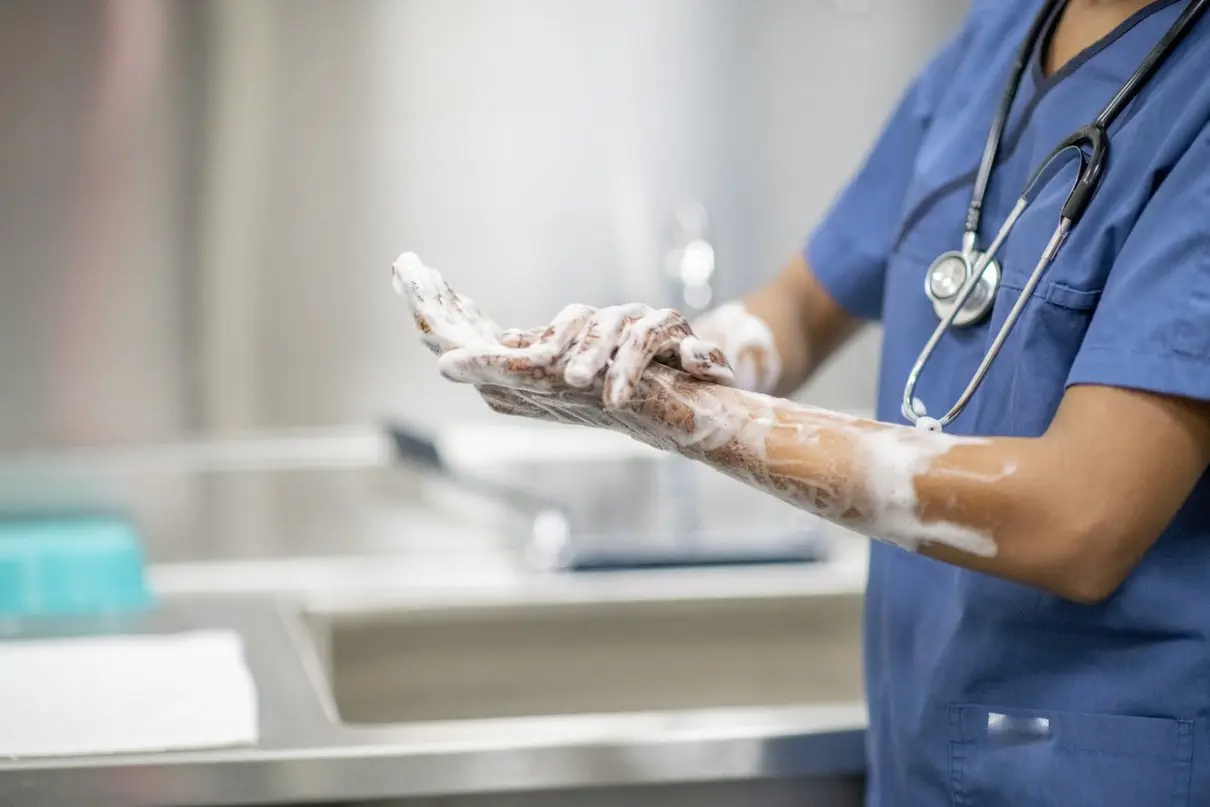 Everyone is susceptible to hospital infections, with more emphasis on children and the aged. Here are few tips on how you can avoid future infections at the hospital:
Observe personal hygiene – Keep your hands clean all through. Avoid touching the hospital surface. And when you touch any surface, be sure to disinfect to keep off any germs on your skin.
Isolate – Avoid close contact with other patients as possible.
Observe doctors – Ensure that the doctor sterilizes or cleans hands well before touching you.
Improve ventilation – A ventilated room can limit the spread of airborne infections.
Report signs – Don't stay silent. Report any signs or symptoms that could suggest that you have acquired an infection. Also, take note of any changes on your open wounds, such as increased itchiness and swelling.
Report malpractices – Tell your nurse about any hygiene malpractices that you note in the hospital
You can also take precautions before admission by avoiding smoking and maintaining a healthy weight.
What Next: What to Do If You Get a Severe Infection in Hospital
Treatment
The first step is to get treatment. But if the infection is resistant to the available treatment options, then you should seek legal help. A good medical negligence lawyer can help you get compensation for the time taken at the hospital, as well as the money spent on the hospital-acquired infection.
Lawyer
Ideally, the lawyer should check your medical reports before being admitted to the hospital. Those reports can prove that you did not have those infections before visiting the hospital and that you only got them from the hospital. Also, your lawyer should check the damage to know if you qualify for compensation at the court.
Your lawyer might also need:
All your medical reports
Receipts for any money you paid for the medication
A few witnesses to support your case
Note that it can be hard to determine the party liable for the infection. Sometimes, the hospital or the healthcare facility may not be always at fault. Nevertheless, an investigation should be done to know the party at fault.
Investigators
The investigators can give their opinions on the matter by finding out if the infection could be caused by medical negligence. If the hospital could have done something better to prevent it from happening, then your lawyer can go ahead and initiate a claim for your case.
You can file a case for a specific doctor or entire healthcare facility, depending on the investigation findings. Based on your condition, the lawyer can advise you on the way forward. They can help you initiate a claims process and stand with you during the trials. You only need to ensure that the lawyer is well experienced.
Conclusion
Hospital-acquired infections can cause serious health issues. To avoid this, you may need to hire a medical malpractice lawyer to help you. The ideal lawyer should understand your situation, listen to your complaints and take the necessary action.
At Weltchek Mallahan & Weltchek, we have helped thousands of patients get fair compensation for their hospital-related injuries. If you have sustained any hospital-acquired infection, contact us today to get quick help.
Who Can You Trust with Your Case?
Have you or a loved one been injured due to negligence? We want to help. Don't hesitate to contact us if you believe you have a case; time is an important factor. Interested in learning more? Get in touch with us so we can better evaluate and serve your needs in getting the justice your loved one deserves. You may very well be entitled to compensation.

Call For a Free Consultation
410-825-5287
Exceptional Peer Recognition
True mavericks in the field of trial advocacy.