ERNST & YOUNG
Accouting Malpractice
BELL ATLANTIC
Business Fraud
Retained foreign objects are more common than people think. Incidences of retained foreign bodies occur in about one out of every 1,000 to 18,000 surgeries, depending on the type of procedure. The most common cause of this problem is the lack of communication in the operating room. 
A foreign object left inside a patient's body can result in significant physical injuries, infections, illnesses, pain and suffering, or even death. When your loved one has been a victim of this kind of medical malpractice or negligence situation, it can be difficult to know what to do. However, taking the right steps will go a long way in protecting the health of the victim. But what exactly should you do next?
Here's what you need to know.
What Is a Retained Foreign Object?
Simply put, a retained foreign object is an item that is accidentally left in a patient's body cavity or operation wound after an invasive procedure. Also known as retained surgical items or unintentionally retained foreign objects (URFO), surgeons use these items typically during the procedure. The most common location for retained surgical instruments is the abdomen. Oftentimes, retained foreign objects are soft and difficult to detect. They can also be small pieces that broke off from a larger object.
Because these items should not be in the body, they can have devastating consequences for patients. This could happen soon after the operation or even years later.
The Most Commonly Retained Surgical Items
Now that you know what is considered a foreign object, it is important to be aware of the types of foreign objects that are often left in patients. Below are a few.
Surgical towels
Surgical gloves
Cotton swabs
Gauze pads
Needles and safety pins
Scalpels
Scissors
Clamps
Surgical sponges
Catheters
Surgical masks
Guide wires
Retractors
Lastly, suction tips and tubes
Warning Symptoms of a Retained Foreign Object
Because of the associated risks, it is important to be in a position to recognize the warning signs of a retained surgical item. This will contribute to early detection and proper treatment. Here are some signs and symptoms to look out for.
Fever
Severe headaches
Coughing up or vomiting blood
Bloody, black or tar-like stool
Difficulty performing basic functions like breathing and eating
Digestive problems
Swelling, tenderness or pain near or around the surgical site
Wound drainage
Swollen lymph nodes
Unexplained loss of consciousness
Unexplained weight loss
A general decline in the patient's overall health
These symptoms can be triggered by other medical conditions, a factor that can make it difficult to link them to a retained surgical item. Also, it is easy to dismiss the symptoms as post-operative pain. However, you may want to see a doctor if these symptoms become worse or persist long after recovery.
What to Do if You Suspect a Foreign Object Was Left After Surgery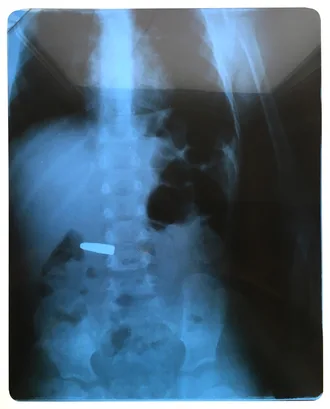 Knowing what to do when your loved one exhibits the symptoms of a retained surgical item can make a huge difference. This is in terms of both the patient's health and your malpractice case. Below are the steps you should take.
Seek Medical Attention
If you suspect a foreign object was left in a patient's body after an operation, you should seek medical attention immediately. However, instead of going to the same health care center that operated on your loved one, you should see another doctor. The first facility may fail to reveal whether there was a retained foreign object for fear of a malpractice lawsuit.

The doctor will order the right imaging tests to enable them to make a correct diagnosis. They will then choose an appropriate treatment plan. This may involve performing procedures to remove the foreign object and repair any damage that may have been done.
Gather All the Relevant Medical Records
Next, be sure to request copies of the patient's medical records from the previous health care center. These include consultation records, medical tests results, diagnoses made by the first doctor and any prescriptions given. The records will provide valuable information relating to the patient's medical history, the surgical procedure in question and any complaints of unusual symptoms following the operation.
These medical records will play a very important role in helping to build your medical malpractice case. The documents will enable you to prove that the harm to the patient was a result of an act or omission by the doctor; one that deviates from the accepted medical standard of care.
Consult a Medical Malpractice Attorney
Malpractice cases can be complicated. In addition, the period after a foreign object is left in a patient's body can be characterized by stress and confusion. This is why it is important to consult an experienced medical malpractice attorney.
When you hire a lawyer, you will have a reliable partner at your side throughout the claims process. The right legal expert will provide experienced legal assistance to help hold the at-fault party accountable.
What an Attorney Can Do for You
During your initial consultation, a medical malpractice attorney will assess your case and explain all your legal options. The professional will also offer objective advice to help you make informed decisions. To ensure you have a solid case, your attorney will do a thorough investigation, gather additional evidence, call in expert witnesses and handle all the paperwork relating to the case.
When filing a claim, an attorney can provide competent legal representation that will help to level the playing field. Your attorney will use their skills to prove malpractice and assist you in getting fair compensation quickly. By doing the heavy lifting on your behalf, you have enough time to ensure your loved one gets the required medical care.
Filing a claim will do more than just enabling you to obtain financial compensation. In case your loved one suffered serious injuries, illnesses or deformities, they will have the physical therapy they need for the rest of their life. If the malpractice has left your loved one permanently disabled, this move will also ensure that the patient has a nurse available to provide hands-on care.
Has your loved one been a victim of a retained surgical item? Consider contacting a lawyer. At Weltchek Mallahan and Weltchek, we are a premier medical malpractice firm located in Lutherville, MD. Our skilled and experienced attorneys will work hard to ensure your rights are protected and help you get the compensation you deserve. Contact us today for a free consultation.
Who Can You Trust with Your Case?
Have you or a loved one been injured due to negligence? We want to help. Don't hesitate to contact us if you believe you have a case; time is an important factor. Interested in learning more? Get in touch with us so we can better evaluate and serve your needs in getting the justice your loved one deserves. You may very well be entitled to compensation.

Call For a Free Consultation
410-825-5287
Exceptional Peer Recognition
True mavericks in the field of trial advocacy.