Doctor Convicted For Prescribing Unnecessary
and Dangerous Cancer Treatments
Call 410-825-5287 for a free medical malpractice consultation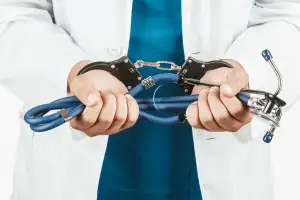 Medical negligence is common and disturbing, yet it pales in comparison with acts involving malicious intent on the part of a trusted physician. A recent case involving former oncologist and hematologist Farid Fata is about as extreme as one can imagine, as this once top notch doctor needlessly treated and harmed hundreds of individuals with dangerous cancer medications and/or treatments simply to pad his own pockets. His scheme was exceptionally profitable; Fata had branched out into the pharmacy, diagnostic testing, and radiation treatment businesses and even ran his own charity. The conniving doctor who formerly practiced in Michigan is now serving a 45 year prison sentence. A fund has been set up to help cover medical and/or funeral expenses incurred by his victims, yet it does not provide allowances for pain, suffering, or lost wages, which will need to be addressed in separate civil lawsuits.
An Elaborate and Skillfully Executed Profit Scheme
Farid Fata was a very intelligent man who used his education and conniving abilities to cover his bases throughout the six year period he needlessly "treated" hundreds of his patients. In addition to his convincing bedside manner and ability to trick patients into believing that his protocols would save their lives, his tactics included:
Refusal to surrender complete medical files.

Fata essentially held his patients' medical records hostage, making it extremely difficult for them to obtain a second opinion.

Demanding frequent contact from other attending physicians.

Fata intentionally spread himself thin in order to "treat" more patients, yet in his absence, he insisted that other physicians looking after his patients stay in frequent contact with him. His desire to remain in communication was not patient centered, however, as he rarely shared any useful information regarding his perspective on their condition.  

Utilizing unlicensed doctors.

In order to schedule 50 or more patients per day, Fata hired unlicensed doctors to meet with his patients before he personally came for the last five minutes to recommend specific treatments.

Lying about his protocols and creating a false medical journal article.

When Fata's protocols were questioned, he explained to patients that he was following advanced protocols from France or Europe. He even went so far as to falsify a medical journal article supporting his recommendations.

Incorrect use of medications.

Destroying his patients' immune systems proved to be highly profitable for Fata, as such patients remained sick and usually continued utilizing his services. To facilitate his goal, Fata would instruct staff members to administer medications and treatments in manners contrary to those recommended by the manufacturers.
Ownership of Multiple Medically Oriented Businesses
Fata extended his profiteering scheme through ownership of multiple medically oriented organizations which he attempted to exclusively direct all of his patients toward. Through his in-house pharmacy known as Vital Pharmacare, Fata purchased a mind blowing $45M in drugs each year; to bring that number into perspective, the average oncologist purchases less than $2M annually. Additionally, Fata owned Michigan Radiation Institute, a radiation treatment center, United Diagnostics, which served as his diagnostic facility of choice, and a "charity", dubbed Swan for Life. He also received kickbacks from a hospice organization where he would routinely send dying patients who refused to continue accepting his "life saving" treatments.
Remorse and Tears, Too Little and Too Late
The once well renowned oncologist and hematologist Farid Fata was remorseful and teary while pleading guilty to two counts of money laundering, 13 counts of healthcare fraud, and one count of conspiracy to pay or receive kickbacks in September of 2014. During his trial, federal prosecutors presented evidence showing that Fata had prescribed at least 9000 unnecessary infusions and injections to a minimum of 500 patients in order to bill and collect more than $35M from their insurance companies. Fata admitted to lying to many patients, telling them that they had cancer when in many cases, they did not. Some of his easiest targets were those with very little life remaining in their bodies; Fata was often able to convince these desperate people that they had a 70 percent chance of survival as long as they continued with his vigorous treatment protocol. Fata's goal was profit, and chemotherapy, radiation and surgeries certainly added up quickly. Approximately 25 of Fata's victims appeared during his trial, a few of whom included:
Robert Sobieray, a man who lost nearly all of his teeth after enduring two and a half years of painful chemotherapy treatments, even though he never actually had cancer.

Chris Sneary, who was grossly overtreated for his testicular cancer. Sneary underwent 40 days of chemo treatment and had one of his testicals unnecessarily removed.

Donald Crabtree, a deceased victim who left behind a statement to be read at Fata's trial. In the statement, Crabtree explained how Fata had given him the wrong type of chemotherapy which he believed caused his tumors to dramatically increase in number and size.

Terri Mitchell, a woman who was needlessly treated with chemotherapy and radiation for the supposed non-Hodgkin's lymphoma that she never actually had. Mitchell says her health has been in decline since receiving Fata's treatments.
An $11.9M Restitution Fund Set Aside for Fata's Victims
A restitution fund totaling nearly $12M has been created from Fata's seized assets. The fund is intended to assist the former oncologist's victims in covering medical and funeral expenses, yet victims will not be allowed to collect for pain, suffering and/or lost wages which need to be addressed in civil cases, several of which are already underway. Fata's clinical practice treated nearly 17,000 patients who were seen at seven different locations; of those, 763 had filed for restitution as of January 2017. Each victim is required to submit their own unique claim based on expenses incurred as a result of Fata's wrongdoings, yet if the fund were to be split evenly among all 763 individuals, each would receive less than $16,000. Considering the massive medical bills generated by Fata's malicious scheme along with the lifelong physical harm that has been done to many of his victims, the fund seems sadly underfunded and insufficient to cover all the damages.
Turning Tragedy Into Valuable Lessons
What is the lesson to be learned here? Doctors seem to have been put on such a pedestal by some that their judgements and recommendations are never questioned. Fata was certainly an extreme case and his behavior is absolutely inexcusable, yet individuals simply must begin taking a greater level of responsibility for their own healthcare and be willing to hold irresponsible medical providers accountable for negligence or outright intent to harm. Something as simple as getting a second or even a third opinion may save your life; asking questions, completing independent research on the validity of the treatment being recommended, and considering alternative options are all excellent ways to ensure you are receiving the care you genuinely deserve. If you suspect you have been or are being the victim of any act of medical negligence or intent to harm, it is of critical importance that you contact a lawyer right away.
Accolades for Weltchek Mallahan & Weltchek
OVER $600 MILLION IN VERDICTS & SETTLEMENTS FOR OUR CLIENTS