ERNST & YOUNG
Accouting Malpractice
BELL ATLANTIC
Business Fraud
You are the best defense a vulnerable relative has if you suspect neglect or mistreatment in a retirement home, assisted living center, or a skilled nursing facility. Medical mistreatment and neglect is a widespread problem in community living facilities throughout the nation. Mistakes happen, but neglect is not a mistake. Neglect is a failure to ensure the welfare and safety of residents. Neglect is the most common form of elder abuse, and it is never acceptable — when neglect leads to harm, it is compensable.
Plan Ahead
When the effects of aging present themselves, older citizens are often unable to communicate effectively. There are steps a family can take to advocate effectively for those who may be unable, or unwilling, to speak for themselves.
Speak With the Professionals Working in Community Living Facilities
Put a family member, or even several members, in a place where they are legally able to advocate for a resident in a community living facility. Make sure there is a power of attorney in effect, along with medical power of attorney.
Consult with the resident's personal physician for a long-term prognosis. Once you know what signs and symptoms of aging are expected, and the anticipated timeline, a family will be better able to recognize the untimely onset of decline.  
Have a digital copy of all necessary and legal documents on your cell phone. These might include Power of Attorney, will, DNR order, medication list. 
Be proactive and forceful. Speak with the director of the facility and determine exactly who will be your point of contact.
Meet with the Director of Nursing, the head of the dietary department, and the activities' director. Hold them accountable for managing your expectations concerning the immediate and projected long-term needs of your family member.
Lastly, have an emergency exit plan in place. We sincerely hope you never face this situation, but if you feel your family member is in immediate danger – remove them immediately. As a family, determine who is best able to temporarily house the resident. First and foremost the home must be accessible. Have an up to date list of suppliers for rental of needed supplies, like a wheelchair or walker, the number of a staffing agency to secure home health nursing assistance, a listing of private in-home caregivers, a 24-hour pharmacy for obtaining needed medication, and a current list of facilities in your area to begin research for a new safe placement. Keep in mind, a retirement home is a personal choice, a resident is free to leave at any time. 
Law for Community Living Facilities
The law is on your side, but the legal issues are many and can be difficult to navigate. Notify the facility of your intent to remove the resident, then contact an experienced personal injury lawyer with nursing home abuse experience, When you have questions about what to do next, what, it any, authorities need to be notified, or how to legally proceed with holding someone accountable, a lawyer is the first step in the right direction.
When Regular Visits Are Not Possible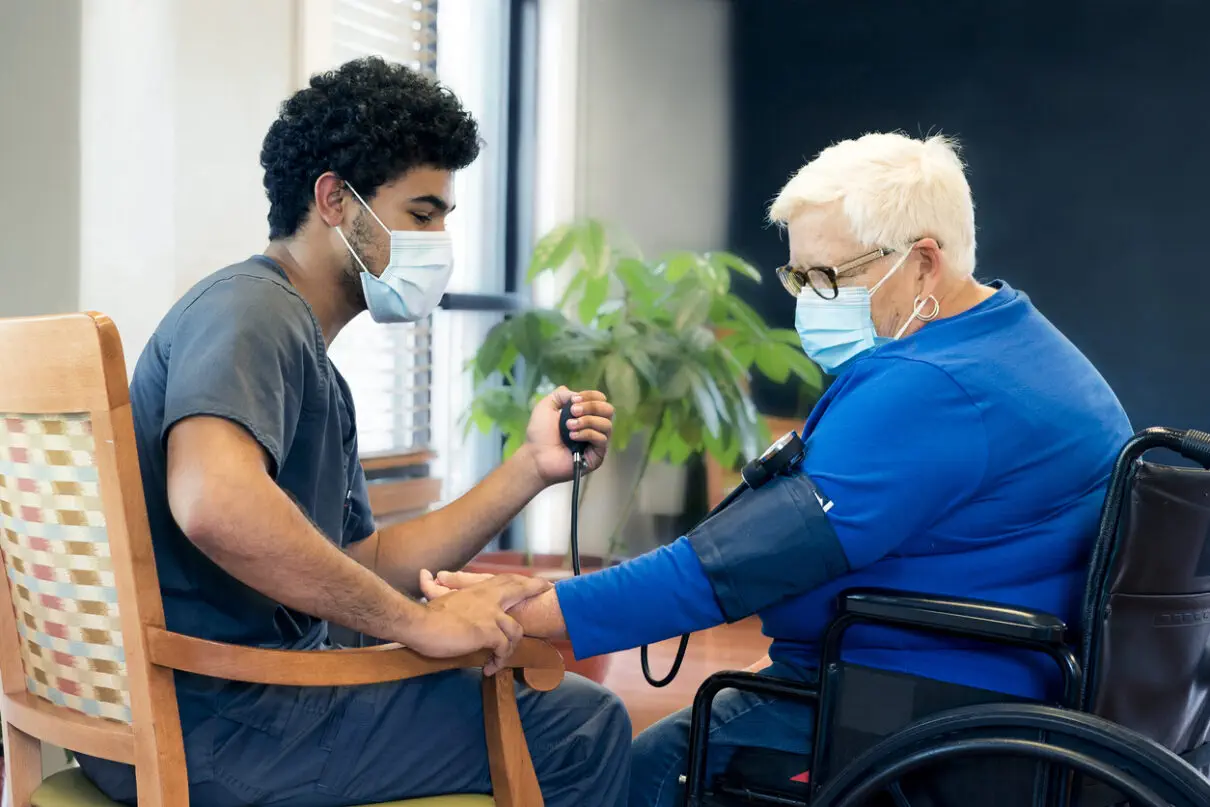 Whether regular visits to the retirement facility are not possible because of logistics, or Covid restrictions, there are things a family can do to monitor the health and safety of their family member. A lawyer can be extremely instrumental in the event the facility is unwilling to accommodate your requests.
Make a regularly scheduled call to the nurse in charge of resident care for an update on your family member's condition
Ask for weekly copies of any and all written notes concerning his or her patient care
Ask about alternative forms of communication with the resident that may be available
Record video calls to your family member
If possible, provide your loved one with a cell phone for face time calls
Maryland's law does allow for the use of surveillance cameras, under certain circumstances. Contact an attorney to discuss the possibility of installing a camera in your loved one's room.
Is There a Legal Cause of Action in a Case of Negligence?
Negligence takes on many forms in community living facilities. The feasibility of legal action may depend on whom, or what may be responsible. For example:
Did a medical professional fail to spend sufficient time with a resident?
Are there noticeable hazards in the facility that could lead to a fall?
Is the building clean and well maintained?
Are established standards of care being violated?
Has your loved one been harmed by another resident?
Is your written agreement or contract with the facility being violated in any way?
What Does Neglect Look Like in Community Living Facilities?
This is a difficult list to read. Neglect looks like dehydration and unexpected weight loss. Neglect is being left alone, unattended, for extended amounts of time. Further, neglect is being cold due to a lack of warm clothing. Neglect is intentional, heartbreaking, and unacceptable on any level. Signs your family member may be a victim of neglect include:
A complaint of always being hungry
Frequent complaints of any kind
Lack of access to his or her glasses, dentures, or hearing aids
Bedsores
Dirty clothing, poor personal hygiene
Insomnia
Unusual personality changes
The onset of new medical conditions
Signs of restraint
Frequent urinary tract infections
Signs of being under or over medicated
Lastly, unclean bedding
Be an Advocate, Speak Up, Level the Playing Field
A family may be able to seek compensation on behalf of a loved one for the consequences of neglect. Indeed, vigilance is a key to keeping residents of assisted living communities, retirement homes, and skilled nursing facilities safe. Speak with an attorney for direction and guidance if you notice any repeated signs of:
A failure to promptly treat a new medical condition
Failure to properly medicate a resident
Any signs or symptoms of poor nutrition
Any indication of unsanitary conditions
Poor or non-existent security measures in place
Lastly, residents wandering or eloping
Help Your Seniors Living in Community Living Facilities
You are your aging loved one's best defense against neglect in a community living facility. When you have concerns, and unanswered questions, ask an experienced personal injury lawyer.
Who Can You Trust with Your Case?
Have you or a loved one been injured due to negligence? We want to help. Don't hesitate to contact us if you believe you have a case; time is an important factor. Interested in learning more? Get in touch with us so we can better evaluate and serve your needs in getting the justice your loved one deserves. You may very well be entitled to compensation.

Call For a Free Consultation
410-825-5287
Exceptional Peer Recognition
True mavericks in the field of trial advocacy.