Amputation as a Result of Medical Malpractice
Call 410-825-5287 for a free medical malpractice consultation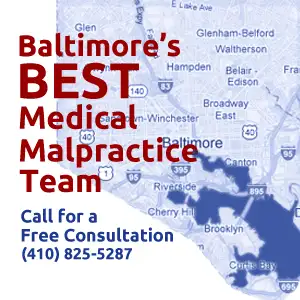 Causes of Amputation
Amputation is the removal of a body extremity by trauma or surgery.  Several causes of amputation are:
Circulatory Disorders:
Diabetic foot infection
Gangrene
Sepsis with peripheral necrosis
Neoplasm:
Cancerous bone or soft tissue tumors (e.g. osteosarcoma,osteochondroma, fibrosarcoma, epithelioid sarcoma, ewing's sarcoma, synovial sarcoma, sacrococcygeal teratoma,liposarcoma, melanoma)

Trauma:
Severe limb injuries in which the limb cannot be spared or attempts to spare the limb have failed.
Traumatic amputation (an unwanted amputation that occurs at the scene of an accident, where the limb partially or wholly severed as a direct result of the accident, for example a fingertip that is cut off by a meat grinder)Amputation in utero (Amniotic band)
Deformities:
Deformities of limbs or digits
Extra digits or limbs
How do I know if an amputation is the result of medical malpractice?
Amputation Misdiagnosis or negligence of a health care professional or health care institution that results in amputation is medical malpractice.  Amputation is a traumatic experiences that can carry a number of additional costs for the victim.
Not Sure Yet?
Tell Us About Your Case and We'll Assess It For You.
100% Free.
Accolades for Weltchek Mallahan & Weltchek
OVER $600 MILLION IN VERDICTS & SETTLEMENTS FOR OUR CLIENTS