ERNST & YOUNG
Accouting Malpractice
BELL ATLANTIC
Business Fraud
We trust health professionals to provide high-quality care for our families and loved ones. Nobody goes to the hospital expecting to return home with more health complications that may even become fatal. Unfortunately, this is the case in some instances, especially for a birth injury. Medical malpractice is a frequent occurrence in the US that leads to thousands of lawsuits filed against health care providers every year. If you have a friend or a family member previously subjected to medical malpractice, you probably understand its potential consequences firsthand. One common form of medical malpractice manifests during childbirth through birth injuries. Here are the top symptoms of a birth injury that parents should look for.
What Is a Birth Injury?
A birth injury is common medical malpractice that occurs when health caregivers fail to provide high-quality medical care before, during, or after childbirth. For every 1000 children born in the US, 7 of them experience birth injuries. Fortunately, most birth injuries are easily manageable when detected early enough. It is therefore important to know how these birth injuries manifest in children and attend to them as early as possible before further damage occurs.
Common Symptoms of Birth Injuries
Identifying birth injuries as a parent with a newborn is not an easy task. Some birth injury signs may even show up months or years after child delivery. Luckily, some birth injury signs are present during childbirth or a few moments after your child is born.
Immediate Symptoms
Here are the earliest symptoms of a birth injury that every parent should look out for during or immediately after delivery.
Infant's head lags a bit when picking them up from a lying position
Baby has a stiff feeling when held
Seizures that present themselves within 48 hours
Failure of the infant to immediately breathe after delivery
A floppy appearance that makes the baby seem to lack muscle definition
A need for resuscitation (CPR or a breathing tube) immediately after a delivery
Too much drooling
When the baby constantly vomits or is nauseous
Back becomes arched whenever the baby cries
Baby is highly irritable, cries in a high pitch, or constantly grants
Hands curled into a paw-like shape
Baby releases slow breaths
Shallow heartbeats
The baby has bruises or swellings on their face, head, and shoulders
Baby has a facial nerve injury
Fractures in the infant's skull
Infant is sensitive to light
Reflexes are either weak or absent
If you notice any of these early birth injury signs during or after childbirth, you should consult your doctor for immediate intervention. If you also believe that these birth injuries might have occurred due to medical malpractice, we strongly advise you to seek legal action. Contact Weltchek Mallahan & Weltchek today for the best legal services in Timonium, MD. We will educate you on your legal options and help you seek compensation for your baby's treatment.
Birth Injury Symptoms That Develop Later in Your Child's Life
Some birth injury signs will not be visible until later in your child's development stage. It would be challenging to determine the degree of these symptoms till later, sometimes for a year. It is crucial for every parent to monitor their babies and look out for these late birth injury signs at every child's development stage.
The following are some signs to watch out for:
1 Month Old: Baby doesn't blink when bright light shines their eyes, limbs barely move, feeds and suckles slowly, looks loose or stiff in the limbs.
3 Months Old: Baby cannot hold or grasp items, does not respond to loud noises, cannot push their legs down when feet are on a strong surface, requires support to keep their head in place.
7 Months Old: Baby has extremely tight muscles and is overly stiff, requires help to sit, cannot roll over by themselves.
12 Months: Cannot crawl, stand on their own, or when supported, cannot say even simple words.
Note that this breakdown should only act as a simple guideline. Your baby may manifest other signs of late birth injury not included here, such as trouble doing basic hand movements like clapping. If you suspect that your child may be showing other symptoms, you should consult a health professional as soon as possible for proper diagnosis.
Birth Injury Symptoms That Appear Between 12 and 24 Months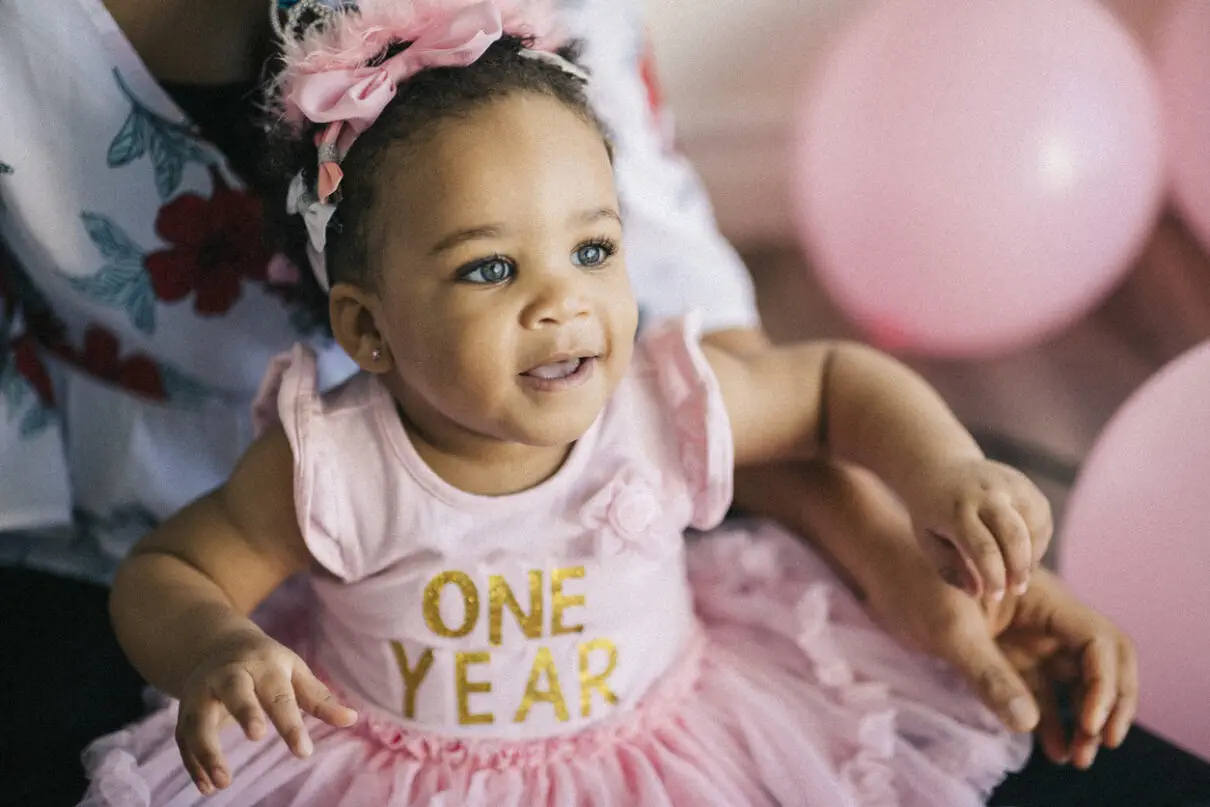 Some signs of birth injuries could go past one year before being noticeable. The symptoms generally become evident when your child begins skipping important milestones in their development process.
These are the birth injury signs you should look out for when your baby is 12-24 months.
Poor coordination
Lack of body movements (Ataxia)
Not putting objects in the mouth
Not turning their head whenever they hear noises
Difficulties in walking or crawling
Hearing problems
Lack of speech or delayed speech.
Difficulty grasping objects.
Symptoms After 24 Months
Not every birth injury sign will be detectable within your child's first 2 years. Some appear after they join the elementary school and begin showing delays in their development compared to other children.
Look out for these birth injury symptoms after your child clocks 24 months:
Hearing and vision issues (blindness or deafness)
Failure to dress or eat without help
Muscles become loose or stiff (hypertonia)
Cannot draw shapes like circles or straight lines
Cannot utter words or understand complete sentences
Development disabilities like autism start manifesting
Difficulties standing or running down the stairs
Tremors
What Should I Do If My Child Shows Birth Injury Symptoms?
If your child showcases any signs of childbirth injury, the first action would be contacting a medical professional. Doctors will diagnose the symptoms through multiple physical exams and intellectual tests. Then, an accurate diagnosis will allow your child to get the treatment they deserve to manage their condition.
Discuss Your Child's Symptoms With The Best MD Birth Injury Lawyers Today
If you suspect that the birth injury resulted from medical malpractice or negligence, contact Weltchek Mallahan & Weltchek to help you file for legal action.
Our professional and experienced birth injury lawyers will attend to you as needed and ensure you get the justice you deserve. Schedule a free case review or call us today to talk with one of our legal experts in Maryland.
Who Can You Trust with Your Case?
Have you or a loved one been injured due to negligence? We want to help. Don't hesitate to contact us if you believe you have a case; time is an important factor. Interested in learning more? Get in touch with us so we can better evaluate and serve your needs in getting the justice your loved one deserves. You may very well be entitled to compensation.

Call For a Free Consultation
410-825-5287
Exceptional Peer Recognition
True mavericks in the field of trial advocacy.