ERNST & YOUNG
Accouting Malpractice
BELL ATLANTIC
Business Fraud
Welcoming a new baby is supposed to be a glorious moment for every mother. Nevertheless, multiple uncertainties may happen, and the supposedly happy moment turns to tremendously high medical costs, deformations, or death of your infant. Broken bone birth injuries may occur during the delivery process due to medical child-birth errors. Negligence on the part of the doctor may subject your baby to various orthopedic fractures. The management of the broken bones can be quite costly and, in extreme cases, lead to permanent impairment or death.
What Are the Major Causes of Bone Fractures During Birth?
Newborn bones are quite fragile, and any improper handling can cause fractures or deformation. Infants with considerable weight or those within an advanced gestation period are more susceptible to orthopedic fractures. Consequently, underlying conditions such as arthrogryposis and osteogenesis imperfecta increase the probability of bone injuries.
The leading causes of bone fractures primarily include:
Rushed labor
Prolonged labor
Improper handling of a breech birth ( occurs when a baby presents with buttocks first instead of the head)
Incorrect use of Pitocin
Shoulder dystocia (a situation when the baby is stuck in the birth canal)
Incorrect use of vacuum and forceps
A less competent doctor was handling the birthing process without supervision.
Major Types of Bone Fractures During Birth
There are different types of bone fractures a baby can experience. The fracture's extent and location primarily depend on the birthing presentation and handling of birth tools by the medic. Some of the common orthopedic fractures include:
Clavicle Fracture
The clavicle bone is also known as the collarbone. It is the bone that forms a connection between the chest and shoulder. The fracture may be unnoticeable during birth, and in rare cases does a permanent deformity occurs. 
Dislocation or fracture of the clavicle bone primarily occurs in breech delivery or dystocia. The medic in charge may forcefully deliver the baby in the narrow vaginal position or the wrong birthing presentation. Further, the ultimate result is the fracturing of the collarbone.
The management of the fracture does not warrant any complicated treatment or invasive treatment options.  An orthopedic doctor may recommend strapping the affected arm on the chest on the adjacent side to immobilize the hand.  The procedure fastens the healing process. In extreme cases, the physician may recommend physiotherapy sessions, which might be costly.
Humerus Fractures
The humerus bone is located on the upper arm. If you notice your baby cannot move the upper arm or the baby cries when you try to move, it is a strong indication of a humerus fracture.
Femur Fractures
If a doctor twists the leg at an abnormal angle during delivery, a femur fracture may occur. However, it is the rarest type of fracture during birth. You may notice that your baby is often crying when you adjust their position or during the diaper changing process. An orthopedic specialist may recommend the wearing of a Pavlik harness for four weeks to resolve the problem.
Depressed Skull Fractures
Research done by the National Center for Biotechnology Information noted that incorrect use of forceps and vacuum during delivery causes depressed skull fractures.
Growth Plate Fractures
The fracture occurs due to the soft cartilage fracture and is detected by swelling on the bone's end.
Broken Backs and Necks
They are the most severe fractures and may cause permanent disability or death. Most of these fractures are associated with nerve damages, which may cause paralysis. Emergency and costly treatment are intrinsic in the management of fractures.
How Can You Tell Your Baby Sustained Broken Bones During Birth?
After birth, it is impossible to identify any fractures. Most mothers note the underlying problem after a few weeks or months. However, some common symptoms can raise an alarm of a potential orthopedic fracture; upon noticing any symptoms, consult an expert orthopedic who will request an x-ray.
Lumps on the end of bones
Bruises
If you suspect the baby is experiencing pain when moving the legs or hands
Excessive or abnormal crying
Immobility of particular body parts
What Are the Chances of Obtaining a Settlement for My Baby's Injuries?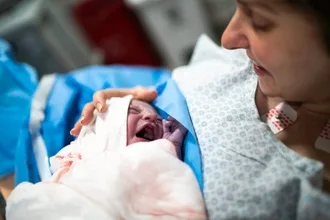 Sadly, most mothers are unfamiliar with their rights after a botched delivery process. The doctor who was negligent or conducted some medical errors should be held accountable. A medic using aggressive delivery techniques or improper use of birthing tools qualifies you to take legal action against the doctor.
Legally the physician or health facility should compensate you for all economic and non-economic damages after broken bone injuries during delivery.  You should receive full compensation for all medical costs, lost wages, emotional distress, and pain and suffering.
Take immediate, legal action against the negligent doctor and per the statute limitations. However, hiring a lawyer increases the likelihood of obtaining the right compensation for your child.
How Will Bone Birth Injuries Affect Your Child's Current and Future Wellbeing?
For minor cases, healing occurs without requiring any medical treatment. Since the bone tissues are degenerating at a high rate, the bone will restructure and heal completely. However, if the fracture causes nerve damage, permanent disability may occur. Broken backs and necks are severe and may limit perfect mobility in the future. Extensive sessions of physical therapy may be needed for the bone to heal completely.
Is Your Child a Victim of Broken Bone Birth Injuries? Weltchek, Mallahan & Weltchek Can Help
Obtaining judicial justice after medical malpractice is complicated. The comprehensive and tedious judicial process, at times, might be compromised. Weltchek, Mallahan, & Weltchek has lawyers who have unbeatable experience in matters regarding medical errors and negligence. 
Our lawyers tackle even the most complicated cases and ensure justice prevails by all means. Contact us immediately for a free case evaluation. Let our legal professionals advise the best approach towards the unfortunate broken bone injury. We are proactive when approaching birth injury litigations, and thus, we ensure we consult top medical specialists who provide viable testimony if medical negligence resulted in the orthopedic fractures.
Who Can You Trust with Your Case?
Have you or a loved one been injured due to negligence? We want to help. Don't hesitate to contact us if you believe you have a case; time is an important factor. Interested in learning more? Get in touch with us so we can better evaluate and serve your needs in getting the justice your loved one deserves. You may very well be entitled to compensation.

Call For a Free Consultation
410-825-5287
Exceptional Peer Recognition
True mavericks in the field of trial advocacy.