ERNST & YOUNG
Accouting Malpractice
BELL ATLANTIC
Business Fraud
Birth injuries are every parent's nightmare. Your beloved baby has finally made an entrance after nine long months of waiting…only to hear that they incurred a life-altering injury during delivery. The days that follow are often emotional, hopeless, and incredibly stressful. Amidst all the trauma and uncertainty, one question will likely keep popping up in your mind: "Was my baby's birth injury due to blatant negligence on the medical provider's part, or was it simply a mistake?" 
Be that as it may, there is no excuse for preventable birth injuries. Every infant deserves a fair shot at life, with his or her mental and physical health intact. Still, it's important to understand the difference between a medical mistake and negligence before taking any legal action. In this blog, we'll help you draw the line between a medical mistake and negligence in regards to birth injuries.
What Is a Birth Injury?
A birth injury is a physical harm that a baby suffers while being born. Birth injuries are quite different from birth defects, which are caused or grow while the fetus is still developing in the womb (cleft lip/palate is an example of a birth defect). 
Did you know that 7 birth injuries occur for every 1000 babies born in the U.S.?
Common Types of Birth Injuries
Thankfully, most birth injuries are minor and manageable. These often cause no lasting harm to the infant. Minor birth injuries include:
However, not all birth injuries are minor and inconsequential. Some have devastating effects down the road. Major birth injuries include:
Cerebral palsy (According to the CDC, 85%-90% of people with cerebral palsy developed the condition before or during birth due to brain damage)
Hypoxic-ischemic encephalopathy (HIE is often caused by lack of oxygen (hypoxia) and lack of blood (ischemic) in the baby's brain during birth)
Spinal cord injuries 
Vacuum extraction complications
From the list alone, it's easy to tell that medical providers play a huge part in whether or not a birth injury amounts to negligence. Question is, when is a birth injury classified under negligence, and when is it termed merely a mistake?
Medical Mistake vs. Negligence: Where to Draw the Line in Birth Injury Cases
There's a very thin line between a mistake and negligence. But first, let's look at the different definitions.
What Is a Medical Mistake?
To put it simply, a medical mistake is a preventable adverse effect of care, whether or not it is evident or harmful to the patient. Two keywords here: preventable and harmful.
That said, medical mistakes are mistakes like any other. Yes, the repercussions could be huge, but the fact remains that they lack that aspect of "intent."
In the context of birth injuries, a medical mistake may constitute things like:
Unknowingly injuring the unborn baby using vacuum extraction tools
Failure to spot fatal distress in the baby's vital signs, perhaps due to fatigue
Applying "too much" pressure on the infant's torso during delivery thereby leading to spinal cord injuries (this is based on the context that the doctor may not know the exact amount of pressure to exert on the baby)
In as much as delivery doctors are human, medical mistakes are almost unjustifiable. As such, it is only in extraordinary circumstances that a medical error can be passed as accidental and, by extension, unpunishable. Most mistakes are deemed as acts of negligence and therefore punishable under law.
What Is Medical Negligence?
While it's difficult to separate birth-related mistakes from negligence, the latter has two characteristics that makes it stand out:
It's bound by an industry-wide standard of care.
It contains some degree of intent and recklessness.
In simple terms, medical negligence is an act or omission by a medical professional that deviates from the accepted medical standard of care. To actually have a chance of getting a result in a negligence-related birth injury case, your lawyer must state how your delivery doctor violated an accepted standard of care. Did the professional act similarly to how other trained medical providers would have acted in the circumstances surrounding the situation?
Forms of medical negligence during childbirth that may lead to birth injuries include:
Failure to perform an emergency cesarean section (C-section) when necessary
Failure to monitor the baby's heartbeat and detect fetal distress
Misuse of birthing tools during vacuum or forceps delivery
Failure to prevent and control tearing/hemorrhaging in the mother
When Is a Mistake Just a Mistake?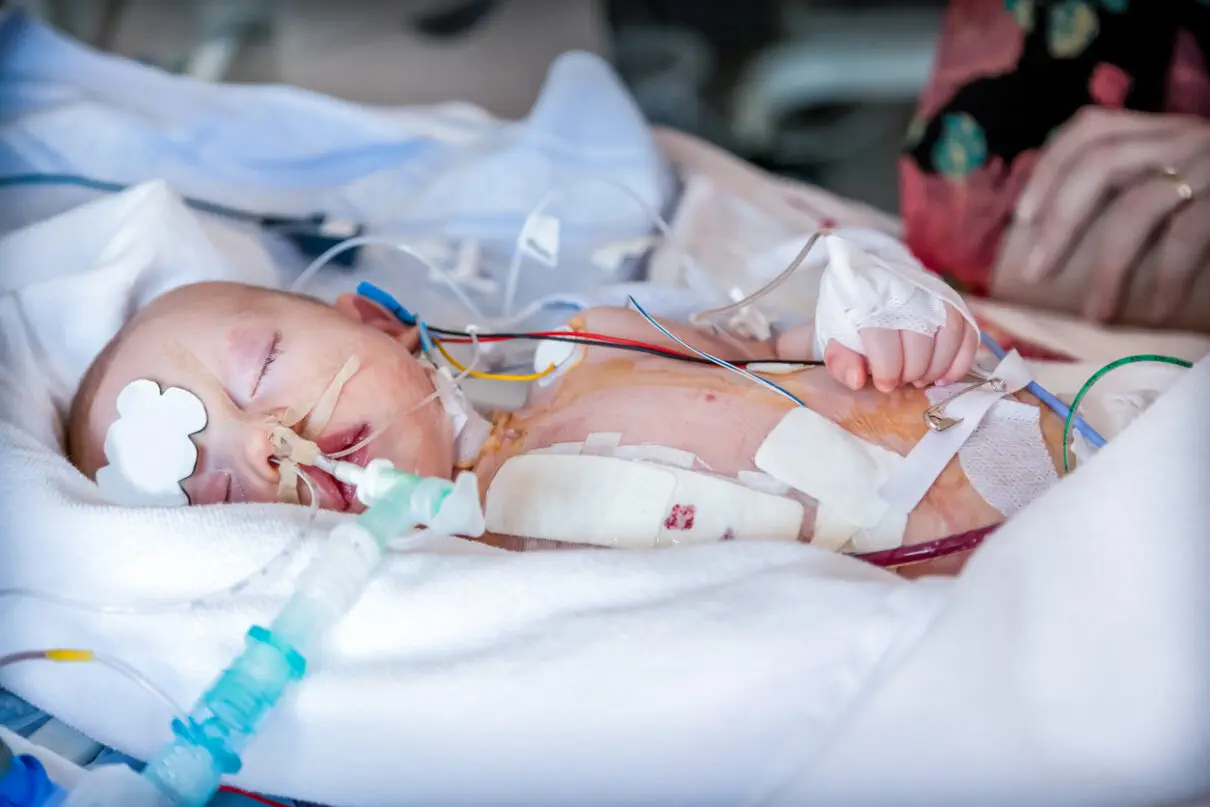 The fact that an injury was inflicted on your newborn baby doesn't automatically make the delivery doctor negligent.
In order to be negligent, the doctor would have to go through with a procedure they knew to be risky and potentially harmful, and a civil court decides that a reasonable person would have avoided such risk in that situation. The only way for the delivery doctor to "get off the hook" is to prove that other doctors or medical professionals at their level would have acted similarly in the same situation.
Your Medical Records Are the Only Ticket to Proving Negligence
As the mother to a newborn baby who has suffered devastating birth injuries, you are itching to see the law take its course. You want justice to be served to whoever was responsible, and you want it served hot. However, you won't get the outcome you're looking for if you don't have your medical records intact.
Medical records are key to building a solid medical negligence case. These include prenatal, delivery, and post-natal records. That said, medical records are quite easy to retrieve, thanks to the Health Insurance Portability and Accountability Act (HIPPA), which gives patients the liberty to freely access their health records. All you have to do is submit a written request to your healthcare provider or fill out a form. You can get a form in person at the medical office or have it delivered by mail, fax, or email.
Once you have your medical records, submit them to an experienced medical malpractice attorney. The attorney will carefully scrutinize them in search of valid grounds for negligence. Upon careful consideration and with the belief that there's concrete evidence at hand, the attorney will give you the green light to move forward with the lawsuit.
Why Wait When You Can Get the Compensation You Deserve Today?
At Weltchek, Mallahan & Weltchek, we hold the following standard when it comes to birth injuries and medical malpractice: "Would another medical professional have done this mistake? Was it reasonable to make this mistake, in light of all the factors surrounding the mother's pregnancy?" Often the answer is "No." 
In such cases, the family can file a birth injury claim against the liable parties. If your case falls under this fold, we can help.
Our team has the firepower, dexterity, and legal prowess you need to obtain maximum compensation for your little bundle of joy. We live, eat, and breathe birth injury lawsuits like yours, and we can't wait to help you open a new, happier chapter of your life.
When we say we can get you the compensation you deserve, we mean it. Still in doubt? Check out our results and see the millions we've brought home for our clients as compensation. Surely you can be part of our success stories too. Call us today at 410-825-5287 for a free consultation.
Who Can You Trust with Your Case?
Have you or a loved one been injured due to negligence? We want to help. Don't hesitate to contact us if you believe you have a case; time is an important factor. Interested in learning more? Get in touch with us so we can better evaluate and serve your needs in getting the justice your loved one deserves. You may very well be entitled to compensation.

Call For a Free Consultation
410-825-5287
Exceptional Peer Recognition
True mavericks in the field of trial advocacy.