Robert Weltchek
Call Robert at 410-825-5287 for a free medical malpractice consultation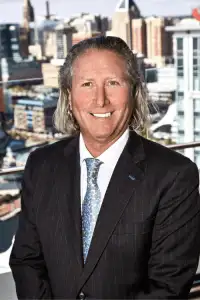 Throughout his 30-year career, firm principal ROBERT J. WELTCHEK has consistently achieved historic recoveries for his clients.
The lengthy list of defendants that he has successfully litigated against includes some of the country's largest corporations. Among them are ExxonMobil,Ernst & Young, General Motors/Hummer, Bell Atlantic, Bethlehem Steel, Chemlawn,FBI, Essroc Cement, Publishers Clearinghouse, and Johns Hopkins Hospital.
Weltchek recently won a historic $150,000,000 jury verdict in Baltimore County against ExxonMobil in a 6-month trial stemming from massive groundwater contamination. The jury verdict ranks as one of the largest in the Nation's history. In 2000, Weltchek recovered $185,000,000 for his bankrupt client against accounting giant Ernst & Young, reportedly one of the largest settlements at the time.
Weltchek has built his reputation on landmark recoveries in medical malpractice cases as well. With over a dozen verdicts in excess of $5,000,000, Mr. Weltchek is highly sought after by attorneys and clients throughout the country to present their cases in court.
CAREER HIGHLIGHTS include:
The first ever medical malpractice jury verdict in Charles County Maryland ($5,000,000), for the failure of physicians to recognize the severe abuse of a 6-year old child
The first ever pharmaceutical litigation in the State of Maryland involving the drug Terbutaline
A $10,250,000 jury verdict in the Circuit Court for Baltimore City against Carefirst and a private practicing physician for the negligent delivery of a child resulting in permanent brain injury;
A $10,000,000 jury verdict against the University of Maryland Medical Center in a wrongful death case for the failure to diagnose a blood disorder leading to the death of a 19-year old man,
A $10,000,000 jury verdict in the U.S. District Court for the District of Columbia against Bristol-Myers Squibb for defective silicone breast implants,
A $7,100,000 jury verdict in the Circuit Court for Baltimore County for the failure to diagnose colon cancer resulting in the death of a 50 year old man.
The largest medical malpractice recoveries (at the time of verdict) in Anne Arundel County, Baltimore County, Baltimore City, and Charles County.
WELTCHEK MALLAHAN & WELTCHEK pledges to continue the maverick tradition that Robert J. Weltchek has pioneered in his 30-year legal career.