Megan Burns
Call Nathan at 410-825-5287 for a free medical malpractice consultation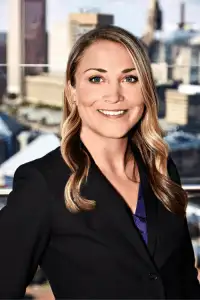 Megan Burns earned her Bachelor of Arts degree from University of Maryland and her Juris Doctorate degree cum laude from the University of Maryland School of Law. Ms. Burns is a member of the Bars in Maryland and the United States District Court for the District of Maryland. She holds memberships with the Maryland State Bar Association, Maryland Association for Justice, and Baltimore City Bar Association.
Ms. Burns' practice pivots on intricate litigation topics, including wrongful death, medical negligence, products liability, catastrophic injury, and complex business torts. She has written multiple appellate briefs for and argued a widely discussed informed consent medical malpractice case in the Court of Special Appeals, as well as the Court of Appeals of Maryland.
One of her special interests is representing vulnerable victims, such as children, and abuse victims. She was co-chair of the Personal Injury Committee at the Baltimore City Bar Association. Ms. Burns has served as lead counsel in numerous personal injury trials.
She was also defense counsel in a civil murder Slayer Rule case and second chair in a high-profile criminal trial defending law enforcement officers. She has negotiated settlements of amounts up to $5 million with insurance adjusters and defense counsel.
She has gained invaluable people skills and the ability to adapt well in any situation, from the experiences she had in her decade-long career. She has great communication skills, which she puts to good use when interacting with victims of professional negligence. Her analysis of facts and evidence, and assessment of the merits and damages of cases are excellent.
Ms. Burns is a member of the Emerging Leaders United, United Way of Central Maryland, and the M Club (a foundation for recipients of varsity letter). She has been named Maryland Rising Star in the Super Lawyers publication for the years: 2015, 2016, 2017, 2018.
Accolades for Megan Burns